Jim & Linda's Lakeview Supper Club
Lake Winnebago's Finest Dining Destination
Just A Short Drive For Fine Dining...
It's Worth It!
&nbsp&nbsp






&nbsp&nbsp&nbsp&nbsp&nbsp


In, Sept. 1978, Jim Koenigs and Linda Meyer, at the age of 19 and 20, purchased the business here, then known as Harry's Lakeview. The business featured dinners served with soup, salad, and pasta, complete with potato and vegetable. The building was no more than a modified cottage, with a small bar consisting of 11 barstools and 28 chairs in two tiny dining rooms, with a small attached kitchen and salad area. At that time most of the serving was done by Linda, and Jim did the bartending, with minimal staff.
After 5.5 years, in 1984, the real estate was purchased, and a remodeled Jim and Linda's emerged, now capable of seating 65 diners. Travelers from afar drove and boaters came from around the lake to Jim and Linda's for cocktails and a four-course meal.
As the restaurant grew in popularity, another expansion was warranted. In 1988 a bar/lounge area was added, allowing dining space to be increased to its current 100 seats. We attribute our success to serving good food and cocktails at a fair price, in a casual atmosphere with some incredible sunsets over Lake Winnebago.
We thank our 3 daughters for helping us over the years, as well as many other family members, and great employees. We thank our loyal customers from far and wide for their support over the past 39 years, and look forward to serving you for many more years to come.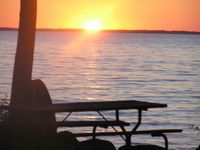 Your Hosts, Jim and Linda Koenigs
Sorry not responsible for misplaced articles.
This site brought to you by Jim and Linda's Lakeview Supper Club.
©2018 Jim and Linda's Lakeview Supper Club
All Rights Reserved.

&nbsp&nbsp&nbsp&nbsp&nbsp Print This Page&nbsp&nbsp&nbsp&nbsp&nbsp Site Map&nbsp&nbsp&nbsp&nbsp&nbsp Contact the Webmaster